Pre-clinical Results
Coronary Artery Ligation Model in Mouse (SPECT/CT)
Mouse model of coronary artery ligation showing deficit in myocardial Tc-99m-MIBI perfusion images. Images were acquired 1 h post-inj of Tc-99m-MIBI (~3 h post-ligation). Lack of perfusion in ligated heart appeared as conspicuous absence of signal in left anterior and apical region (black arrow in thoracic view, upper panel). Axial slices also depict lack of perfusion in apex and anterior wall of coronary artery-ligated mouse (white arrows). Corresponding images of a control mouse show normal perfusion (lower panel).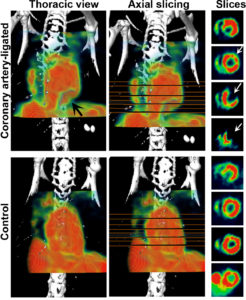 F-18-FGA shows myocardial injury in a rat model of isoproterenol-induced cardiomyopathy (PET/CT)
PET was performed 2 days after treatment of rats with isoproterenol (100 mg/kg i.p.). Approx. 37 MBq of F-18-FGA was injected in the tail vein and images were acquired after 3 h. Control rat does not show any cardiac uptake (right-most image). Cardiac damage was confirmed by TTC staining of heart sections after necropsy.